Getting to know snails and slugs
Here are some elements to get acquainted with these little creatures... Snails and slugs will soon have no secrets for you!
The snail "in brief
The snail slobbers, is slow, comes out in the rain, and lives in its shell ... we usually don't know much more about these species. How do snails live, smell, reproduce or eat? To begin to discover their world, here is the video of a scientist of the Museum which answers all the first questions that one can ask:
Interview Benoit FONTAINE : All about the biology of snails
What is hidden under this shell?
The snail and the slug are soft-bodied animals. They both have almost two pairs of tentacles on their heads. The upper pair carries the eyes while the second is dedicated to smell and touch. Their vision allows them to distinguish only blurred masses and variations in light intensity. The sight of these animals is therefore very imprecise. They do not have a hearing organ and are therefore totally deaf!
Only the shell and the foot are visible of the snail. The organs essential to its survival like its heart, its lung and its organs of digestion, are well protected in its shell. Contrary to what one might think, slugs are not snails that have lost their shells, they have a very small internal shell! 
The snail among other living organisms
Snails and slugs are land-based mollusks. Mollusks have a soft body and usually have a calcareous shell like mussels, oysters and cuttlefish. Both snails and slugs belong to the gastropod group, which means they have one or two pairs of tentacles on their head and a foot. Slugs and snails are very close relatives compared to other organisms, it is even sometimes difficult to differentiate them, some slugs having a visible outer shell, and some snails having none!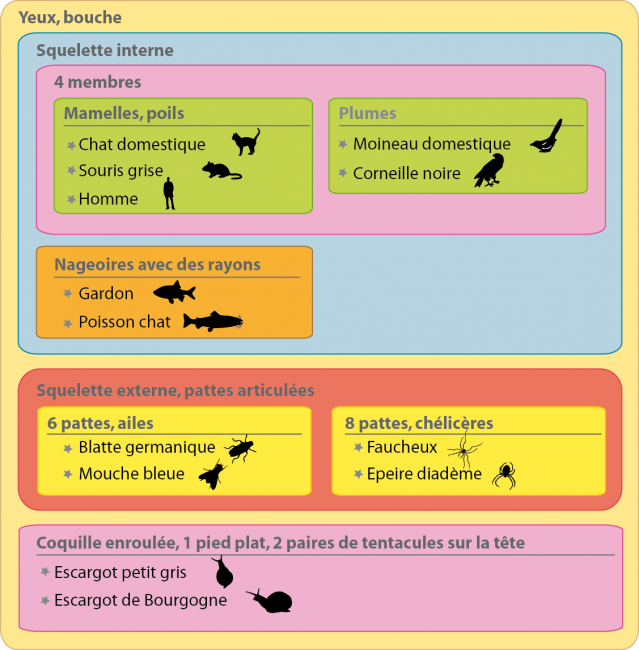 Read more
Documents classification of snails
Classification tree representation for the "city" collection | © Sébastien TURPIN
Read more
A detailed diagram of the snail's anatomy
Here is a "map" of the internal organisation of the hedge snail. This map is taken from the naturalist magazine "La Hulotte".